Babette Switzer owner of the
Kraft Outlet
is pleased to announce the brand-spankin' new
Kraft Outlet
Creative Team. Headed up by Coordinator Beth Moore, the team will provide you with weekly challenges and designs to inspire you to get creative using Kraft Outlet products.
Beginning in January 2011, our weekly line-up of events here at The Kraft Journal will include;
Make-it-Kraft Mondays: We'll present you with a weekly challenge inspiration word or theme and reveal our Designer creations. Watch for opportunities to win prizes for your participation.
Watch Us Wednesdays: We'll present a tutorial by one of our fabulous Designers featuring Kraft Outlet products.
Feature You Fridays: We'll feature one of your designs using Kraft Outlet products or Kraft cardstock submitted from past challenges and award you with a blog button as well.
Spotlight Sunday: Most Sundays, we'll spotlight products, sales and other news from the Kraft Outlet.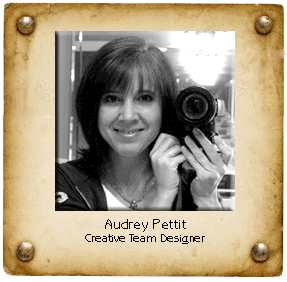 Hi everyone! I'm so excited to be here at the Kraft Outlet. I currently live in North Carolina with my two adorable teenage kiddos and our adoptive Golden Retriever pup. I am the event coordinator at a local landscape design and garden center, as well as a part-time writer and photographer. In my spare time, I love to go antiquing and thrifting, read, and of course, play with paper.
I began paper crafting over a decade ago, when I was invited to the home of a friend for a stamping demonstration. Little did I know that party would begin a love for paper crafting that has followed me to this day. I began mostly as a stamper and card-maker, but that love quickly flowed over into scrapbooking and altered projects. I love to learn and try new techniques, and am always excited for a new venture. I'm really looking forward to working with the great products from Kraft Outlet. Hope you'll join us on our creative journey. Visit Audrey's Blog
right here
.
I am a 39 year old wife, mom, nanny, and dog lover who is addicted to coffee and paper crafts. I have been scrapbooking on and off for years and began card making in 2009. My days are filled with drool, bottles, diapers, cooking, cleaning, fur and of course crafting and blogging. I love being a part on of the online crafting community, each day I am encouraged and truly inspired by all of the wonderfully talented people out there! Hopefully I can be an inspiration to a few of you.Visit Kristina's blog
right here
.
H
ello scrappers! My name is Aphra, and I live down South in Louisiana with my Alaskan oil man Jeff and our two boys, Jonathan (10) and Ethan (3). While my husband is tromping around in the Alaskan tundra for weeks at a time, I'm home working part-time at a doctor's office, chasing around two rowdy boys and our miniature dachshund Max, and staying up into the wee hours of the night scrapbooking.

I fell in love with this hobby back in 2000 when my oldest son was born, and I get more and more addicted with each new product release. It's my passion, my creative outlet, my sanity! Mostly, I create layouts of my family, but I also enjoy making cards, gifts, and decor. Honestly, I will use any excuse to get to scrapbook! Visit Aphra's blog
right here.
Diet Pepsi provides me with late night superpowers so that I can succumb to my paper crafting addiction after a day spent as a partner, mom, grandmother and slave to my menagerie of animals. At my house, where even the dogs get cat hair on them, animal fur is a condiment and everyone is subject to starring in my scrapbook layouts, I look forward to retreating to my craft room at the end of the day to spend time re-fueling my soul by creating with pretty papers and glue!
I can't begin to express how thrilled I am to be heading up a team of such talented and diverse designers as we've put together for you here at The Kraft Journal. We all look forward to providing you with inspiring projects and tutorials featuring Kraft Outlet projects as well as information and fun challenges that will help you achieve your papercrafting goals.Visit Beth's blog
right here.
Creative Team Designer Tracy MacDonald
Paper—the word just makes me happy.

I've been crafting all my life, and have tried all kinds of crafts, but paper has always been a favorite.

I discovered the world of internet scrapbooking last fall and haven't looked back since.

There's so much to share and learn.

I love to create mini albums and other projects and share them with other scrappers on YouTube.

I also love to share tips and techniques and you can find some of those on my YT channel,
Tracylovestoscrap
.
This past spring I tried my hand at card making.

That little side trip has involved me in a fantastic adventure that has netted me some wonderful new friends and given me the opportunity to be a part of the design team for a couple of awesome card challenge blogs, Papercraft Star and Digi Doodle Shop's Best, as well as a design team member for a wonderful digital graphics artist, Tracey Lynn Miller of Fred, She Said Designs.

I'm so excited about this new opportunity to work with Babette and her awesome products.

I'm doing what I love and loving what I do. You can find all my cardmaking projects on my blog
I Wanna Build a Memory
.
As for the personal stuff, I'm a southern belle who's been married to my best friend for twenty-five years.

God has blessed us with a beautiful daughter, who'll be married all too soon.

We're very involved in our church and are thankful for all the many blessings God has given us.

We enjoy a quiet country life with our white lab, Gwennie and life is good! Visit Tracy's blog
right here.