Welcome to Make It Monday with the
Kraft Outlet
. Challenge #9 theme for this week is

"Spring Fling".

Use this week's theme to inspire you to create a project and then link it up at the bottom of this post before 6:00 p.m. (Eastern Time) on Sunday March 13, 2011. All participants in our challenges for the month of March have a chance to be featured on our "Feature You Fridays" posts as well as be entered to win a $15.00
Kraft Outlet
Store Voucher! The more challenges you enter this month, the more chances you have to win! Remember to follow our challenge guidelines to include either Kraft cardstock or products from
Kraft Outlet
on your project to be eligible for the prizes.
Before we move on to our Design Team reveal, we just want to take a moment to update you on our weekly line up here at The Kraft Journal, because we've added two new events and that means that we have something going on here at the blog seven days a week. Here's the new line up.
On
Make it Monday
with Kraft Outlet, we'll introduce the weekly challenge word or theme and provide you with three of our Designer's projects as inspiration for the challenge. We'll also feature a guest designer now and then. (You'll have until 6:00 p.m. on the following Sunday to enter your own projects into the challenge for a chance to win a feature spot and other prizes as announced).
On
Top Three Tuesday
, we'll feature the top three projects we selected from the previous week's challenge.
On
Watch Us Wednesday
, one of our talented Designers will provide you with a challenge-related tutorial using Kraft Outlet products and/or other valuable information you won't want to miss.
On
Thursday Trigger
, Beth Moore, Design Team Coordinator for Kraft Outlet will provide you with a challenge-related project she created to help trigger your Mojo for this week's challenge.
On
Feature Me Friday
, we'll feature one of your projects from past challenges and provide you with a button for your blog just for being featured.
On
Saturday Special
, we broaden our artistic horizons by highlighting Primitive, Folk Art and Vintage items that you can use to inspire your next papercrafting project or to feather your nest.
On
Spotlight Sunday
, we'll feature products from
Kraft Outlet
and talk about other store news (like all the new products Babette is adding to the store...so exciting!)
We hope you can join us for all of our events! Okay...now on to the good stuff...
Design Team "Spring Fling" Challenge Reveal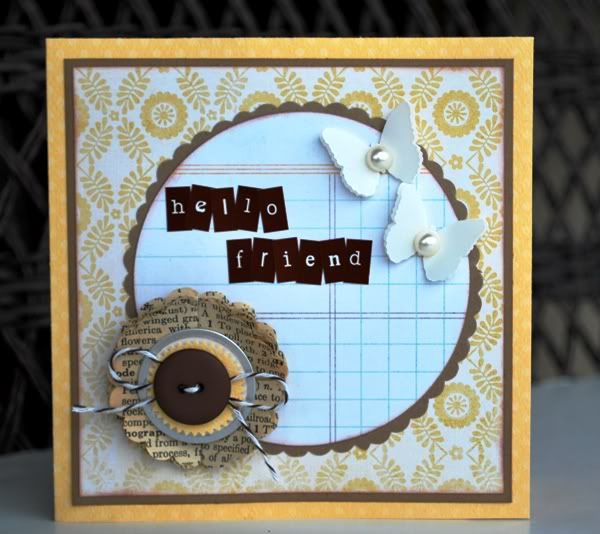 Aphra Boyler

Kristina Harmon
 It's certainly been Spring like in Kristina's neck of the woods! Nothing like warm sunshine to inspire a Spring themed card. Kristina made a scallop based card using
Brown Kraft Cover Weight Cardstock
. It is adorned with an airy flower made from
Small Glassine Bags
and tied off with
7 Gypsies Adelaide Seam Binding
. The message is stamped on a
White Library Card
with the
7 Gypsies ATC Write It Rubber Stamp
. You can get more details about this card on her blog,
Kristina's World
.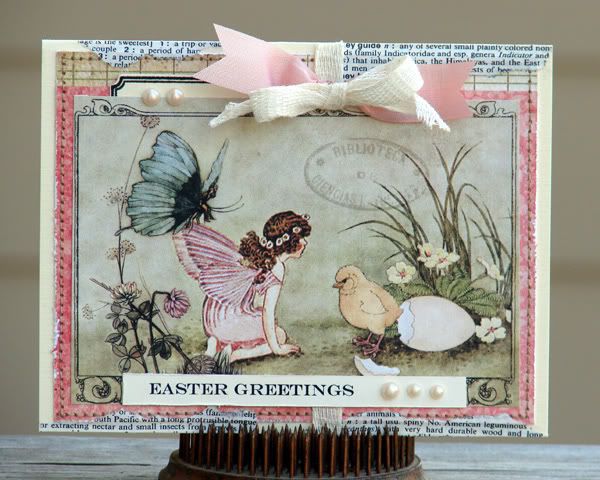 Audrey Pettit
Audrey used this week's "spring fling" theme to create an Easter card featuring a sweet vintage image, her favorite
Buff Ivory
cardstock, and several of the newer products from the Kraft Outlet store. Cardstock layered with patterned papers form the base for the card, with a little machine stitching for some edge detailing. A simple computer-printed sentiment and adhesive pearls add an Easter greeting, and tiny snippets of the new
Vintage Dictionary Pages
adhered to the card edges adds a fun vintage flair. The new
ATC Label Rubber Stamp
trimmed out on Buff Ivory cardstock adds another layer of detail and frames more adhesive pearls, and a bow of seam binding and
Natural Twill Tying Tape
finish things off. For more details and photos, please visit Audrey's
blog
.