Welcome to Make It Monday with the
Kraft Outlet
. Challenge #11 theme for this week is

"

Oh Baby, It's Spring."

Use this week's theme to inspire you to create a project and then link it up at the bottom of this post before 6:00 p.m. (Eastern Time) on Sunday March 27, 2011. All participants in our challenges for the month of March have a chance to be featured on our "Feature You Fridays" posts as well as be entered to win a $15.00
Kraft Outlet
Store Voucher! The more challenges you enter this month, the more chances you have to win! Remember to follow our challenge guidelines to include either Kraft cardstock or products from
Kraft Outlet
on your project to be eligible for the prizes.
Before we get started with our Design Team Reveal for this fun challenge today however, we have a some news we would like to share, as well as someone special we would like to introduce.
At the end of April, Aphra Boyler will step down from the Design Team here at The Kraft Journal to take on a new and exciting design commitment. We will miss our sweet and talented Aphra a lot (sniff, sniff), but are so excited for her as well and hope that you will make sure to visit her at her blog to learn more about her new future assignment as the time draws closer. Though we are sad that Aphra is leaving us, we've got a special someone who will be replacing her on the team and it just so happens that she is also our Guest Designer for this challenge! Frances Sylvia comes to us from the blog, Forever and a Year and we're so excited to have her joining us in May that we thought it would be fun to introduce you to her today, so she's playing along with us for our "Oh Baby, It's Spring" challenge. We just know you're going to love Frances' work as much as we do and hope that you all help us give her a warm welcome to The Kraft Journal and Kraft Outlet's Creative Team! Here's what Frances has to say...
Frances Sylvia
Hello my name is Frances Sylvia and I am from Many, Louisiana. I am a spoiled wife, mother of 4 (all under 9 years old…shew!), Junior High Remediation teacher, and a totally addicted scrapbooker. My greatest inspiration comes from my family and friends in the photos, but I am also inspired by sketches, patterned paper, and what product I am currently swooning over. My style has evolved like most, but I usually create whimsical layouts with clean lines. There are a few elements I can not leave off a layout these days, such as, hand or machine stitching, doodling, threaded buttons, and layering. Since my time is mostly devoted to being a wife and mother, I believe that scrapbooking should be FUN!! There is no greater pleasure for me than to enjoy my family, put the kids to bed, and relive the memories that we created once again.
I am currently designing for BoBunny, The ScrapRoom Kit Co., Right at Home Scrapbooking, ScrapStreet Magazine, and My Little Bit of Whimsy! To learn more about me, visit my blog
Forever and a Year
...I would love to hear from you!!
Frances told us that she actually went to visit Aphra before this challenge to rummage through Aphra's Kraft Outlet supplies in order to create this adorable challenge project. Frances embellished one of Kraft Outlet's
pillow boxes
and used a
card sleeve envelope
and
mini bag
to create a gift card holder.
Frances Sylvia
Frances Sylvia
Again, please help us give Frances a warm welcome to the Kraft Outlet Creative Team and watch here at The Kraft Journal for her weekly projects beginning in May!
"Oh Baby, It's Spring" Design Team Reveal
Aphra Boyler
Oh Baby, It's Spring! And for Aphra, that means blossoms and butterflies. For her challenge project this week, she altered a
Journal
. First, she layered on some patterned papers in her favorite spring colors. Then she added a sticker and the title of her journal. To really show off the Spring theme, she added a large fabric flower and corrugated cardboard center. For the final touch, she added a butterfly die cut accented with a smashed, embellished
bottle cap
. To see details shots, please visit Aphra's blog
My Scrappy Life
.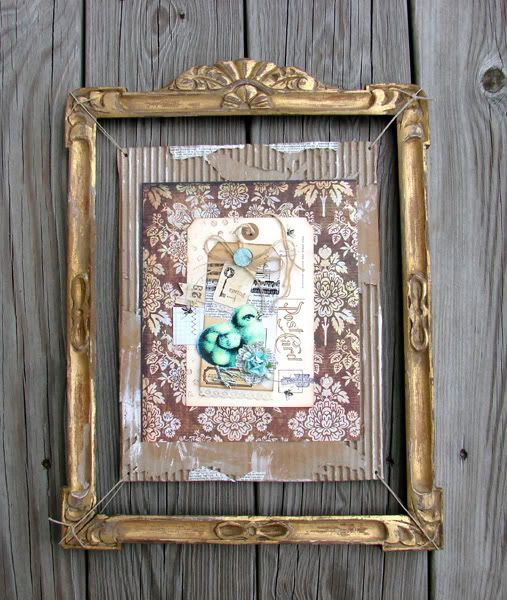 Audrey Pettit
For this week's oh baby, it's spring challenge, Audrey made a recycled framed art project using a thrift store funky junk frame, corrugated cardboard, and lots of fun new products from the Kraft Outlet. A bit of paint and snippets of
Vintage Dictionary Pages
dress a background panel of recycled cardboard. Pretty patterned paper and a
Buff Postcard Tag
frame the
Large Grungy Prim Tag
, drawing your eye to the center of the piece and the sweet baby chick that's the star of the show. Audrey added detailing to the tag with
Steampunk Victoriana Rubbings
, more Vintage Dictionary Pages, and the
ATC Label Rubber Stamps
, along with a dictionary pages flower, a bit of stamping, and a
X-Small Grungy Prim Tag
spring sentiment.
For more details and photos, please visit Audrey's
blog
.
Tracy MacDonald
We're really looking forward to seeing what you create for this "Oh Baby, It's Spring" challenge and don't forget, the more times you enter our challenges this more, the more chances you have to win our $15.00
Kraft Outlet
store voucher drawing for March! By the way, don't forget to visit us again on Wednesday for a fun Easter-themed project tutorial by the talented
Kristina Harmon
!