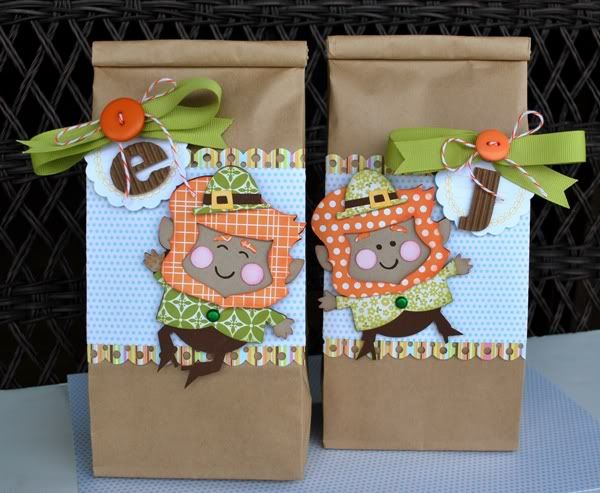 Aphra Boyler
For this week's St. Patty's Day challenge, I (Aphra Boyler) altered two
Kraft Coffee Bags
. These 4 1/4" x 2 1/2" x 10 1/2" bags are the perfect size for treat bags for St. Patrick's Day or any other occasion worth celebrating. Here are some simple directions to help you re-create these cute little gift bags.
1. Cut one 4" x 6" strip of polka dots pattern paper and two 1" x 6" border punched strips of striped pattern paper. Assemble as shown.

2. Score each side 1" from the edge. Attach piece to bag wrapping edges around sides to the crease of the bag.

3. Embellish. For this bag, I added a little Leprachaun cut with my Cricut Expression Simply Charmed cartridge.
Brown Kraft Cover Weight Cardstock
was the perfect color for the little guy's face and hands.

4. Add a tag and some ribbon. Oh, and here's an easy bow trick for you. Loop your ribbon and then tie your baker's twine around the ribbon to hold it in place. Looks like a bow without all the bow-tying difficulties.

Hope you've enjoyed today's tutorial and Happy St. Patty's Day to ya! Don't forget there is still time to join this week's challenge too! Enter your project at our challenge link located in the top right hand of our sidebar!