Hi everyone!
Audrey
here with your Watch Us Wednesday tutorial at The Kraft Journal. For this week's flower challenge, I'm going to show you step by step instructions for creating this fun and whimsical flower creation using punches, patterned paper, and
Vintage Dictionary Pages
from The Kraft Outlet. Let's get started.
1. Punch 7 circles from patterned paper. 6 will be used as petals, with the remaining circle acting as a base for the petals to be glued to. You can use whatever size circle punch you have on hand. I used a 1 3/8" punch for mine.
2. Score approximately 1/4" in on both sides of each of the 6 petals. Fold the end flaps in toward the center of the circle and gently curve petals in slightly.
3. Apply a generous drop of glue to the base circle and adhere each petal, overlapping slightly.
4. Continue until all 6 petals are attached.
5. Punch 1 large flower and 2 smaller flowers from the same patterned paper. Soak the flowers in water for a moment until paper becomes pliable, then scrunch into a tight ball. Open the flowers back out and smooth. Allow to dry.
6. Glue the largest flower in the center first, then add the two smaller flowers. You can adjust the petals as you like, staggering them and fluffing the petals up, or curving each petal back, as to your preference.
7. Adhere a button and twine bow to the center.
8. Punch 6 scalloped circles from Vintage Dictionary Pages. You can leave them as is, or spritz them with Glimmer Mist, as I did here. Inking with Distress Inks also would work well.
9. Pinch and fold together the bottom of each circle so that you get a small overlap on each. You can see how this will look in the photo below. The circle on the left is showing you how it appears from the back.
10. Glue each Vintage Dictionary Pages petal behind the openings left between each scored circle petal.
Now your funky flower is all ready to use on any number of project. I added a bit more Glimmer Mist to the patterned paper and then used my flower to decorate a
Kraft Coffee Bag
for a fun gift wrap package.
I added more detail to the gift bag with a paper doily, another strip of Vintage Dictionary Pages, and
Natural Twill Tying Tape
. A sentiment stamped on a
Round Metal Edged Grungy Prim Tag
and tucked amongst the petals finishes things off.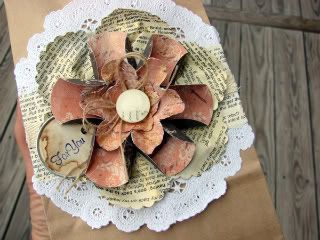 Don't forget you have until Sunday, March 27th at 6pm EST to upload your flower theme project to The Kraft Journal. Please remember to use kraft cardstock or products from The Kraft Outlet on your submissions. Can't wait to see what you create!
Enjoy!