Audrey Pettit
Hi everyone! Audrey here with our next Watch Us Wednesday tutorial. Today I'll be sharing tips and tricks for working with buttons for our current Cute as a Button challenge, paired with some of my favorite products from the
Kraft Outlet
.
I was so excited to be working with buttons this week, as they are some of my absolute favorite go-to embellishments for almost any project. Buttons come in so many colors, shapes, and sizes, including ones with stamped patterns and designs, ones made out of chipboard, plastic, or glass, or even old treasures from your grandmother's attic. They can add just a small little detail, or create a large focal piece, or anything in between. The possibilities are truly endless. Here are a few ways I like to work with buttons.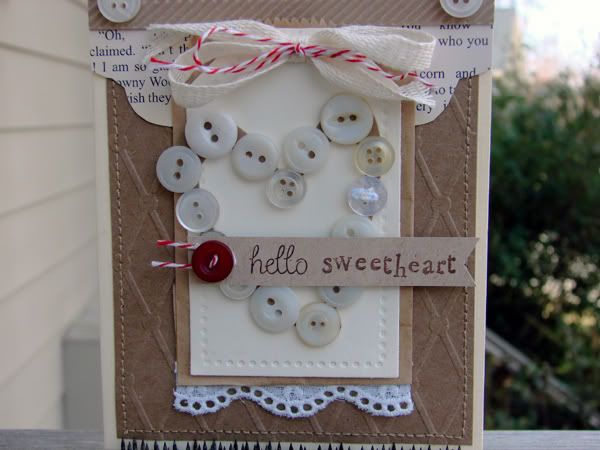 Create a one-of-a-kind focal image by arranging buttons in a simple shape, such as my heart here. Using a pattern as a guide, adhere your buttons to the outline of the shape. I used a heart die cut from Cuttlebug as my pattern, but you could just as easily use a free-hand drawing or a simple geometric shape. I left my heart open, but filling in the space with more buttons would be an eye-catching alternative. I cut my heart die from
Lunch Bag Kraft
cardstock and adhered it onto a tag die cut from
Buff Ivory
cardstock, layered on a
Lunch Bag Kraft Card Sleeve Envelope
.
You may notice the pop of color from the single red button I used to adhere my sentiment strip. Throwing in a sudden burst of color is another way to get a big impact from just one little button, and is one of my favorite tricks. I also try to create depth and interest by using different tones of color, even in a mostly neutral color palette like this one. The cream of the Buff Ivory mixed with the different browns of the Lunch Bag Kraft, the Card Sleeve Envelope and the
Light Kraft
I used on the sentiment strip blend harmoniously yet add a bit of visual interest from the contrast. I've added another layer of cream with a
Natural Twill Tying Tape
bow and pulled in a bit more red with
Baker's Twine
. I stamped the sentiment using a combination of alphabet stamps from my stash, and the fabulous
Clear Sentiment Cling
stamps I find myself turning to over and over again.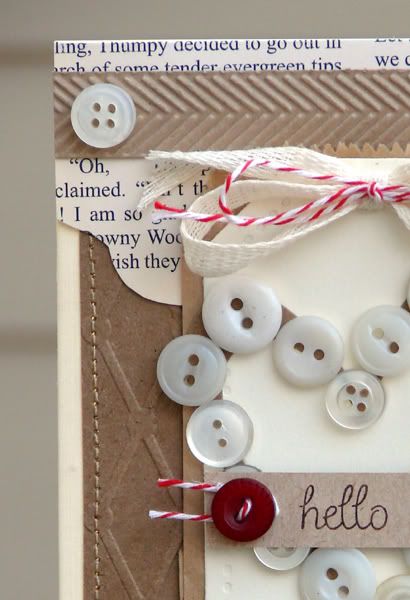 One last tip I use often with buttons is to add them as small finishing touches or details. In this usage, they take a more backstage role, but still add visual texture to the the final project. Buttons look fabulous in the center of flowers and bows or on the tops of tags. I often use them as "tacks", holding down journaling and sentiment strips, or securing layered strips of paper such as the one at the top of my card. These "tacks" act as anchors and keep an object from appearing to just float in space. Another of my favorite tricks.
I hope I've given you plenty of ideas for using buttons on your next project. And don't forget you still have until Sunday evening to link your Cute as a Button submission to the
Kraft Journal
. I can't wait to see what you create!