Welcome to Make It Monday with the
Kraft Outlet
. Before we get started today... we just gotta know... did you notice our new blog look and our new blog button too? Babette, owner/operator of Kraft Outlet felt we needed a change...and as she put it, wanted to "put some lipstick on this pig". We're loving the "lipstick" too and hope you are as well!
In fact, to help us celebrate our new blog look, why don't you consider running right over there to our sidebar and grab yourself our new button and pop it on your blog back home. Then come back here and leave a comment letting us know that you've got our new button on your blog and we'll enter you to win a $10.00 gift certificate to the Kraft Outlet! We'll make this announcement during the month of May too and randomly select a winner from everyone who posted our new button on their blog!

(We'll announce the winner along with our May $15.00 gift certificate winner).
We've also got a new Top Three Award button and a new Featured Artist button too! Hoo-Ray! You'll see the new Top Three button tomorrow...so be sure to stop by and check out our winners from last week's challenge too.
Okay...now on to more good stuff...Challenge #16 theme for this week is

"May Day

"

Use this week's theme to inspire you to create a project and then link it up at the bottom of this post before 6:00 p.m. (Eastern Time) on Sunday May 1, 2011. All participants in our challenges for the month of April (including this challenge that ends on May 1) have a chance to be featured on our "Feature Me Fridays" posts as well as be entered to win a $15.00
Kraft Outlet
Store Voucher! The more challenges you enter this month, the more chances you have to win!

Tracy MacDonald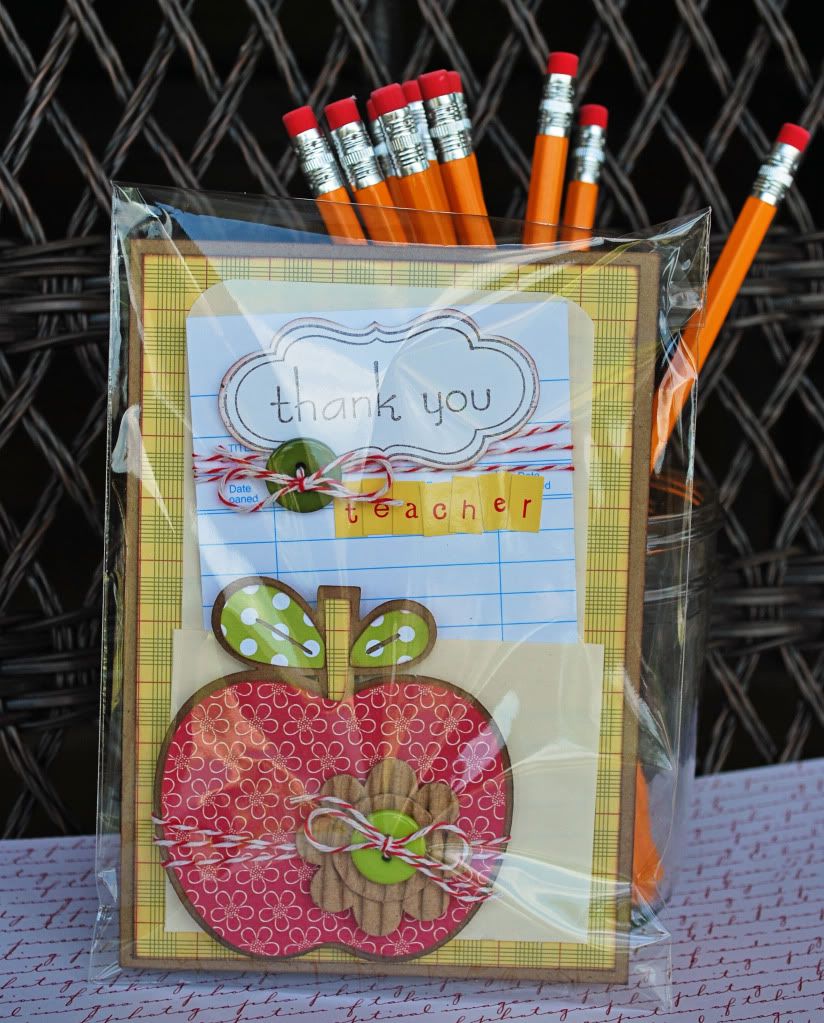 Aphra Boyler
For Aphra's May Day challenge, she decided to create a Thank You card for her son's teacher. The 4" x 6" base of her card was cut from
Lunch Bag Kraft Cardstock
. She chose some Jillibean Soup patterned papers with traditional school colors--red, yellow, and green. To fit with theme of her card, she added a
White Library Card and Manila Library Pocket
. She decorated the front of her pocket with a ripe red apple cut from her Cricut Create A Critter cartridge and adorned it with
Red Baker's Twine
, corrugated cardboard shapes, and a button. Then, she used a
Thank You Stamp
and a 2" x 6"
Clear Mounting Block
to add her sentiment. Finally, she packaged it up in a
Small Cello Bag
, just perfect for keeping the card nice and clean during delivery. You know how dirty back packs can be! For close ups and more details, you can visit Aphra's blog
My Scrappy Life
.
Kristina Harmon
Kristina
made this adorable miniature May Day basket out of a toilet paper roll cut in half and
Lunch Bag Kraft Cardstock
. The Lunch Bag Kraft Cardstock was cut into strips, inked with Vintage Photo Distress Ink and then weaved onto the toilet paper roll to make the basket. A handle was attached using some matching brads. She layered paper flowers and felt leaves to fill the basket and toped it off with a "For You" sentiment stamped on a
Round Metal Edge Grungy Prim Tag.
We're looking forward to seeing what you will create for our May Day Challenge and in the meantime, don't forget that we have a full week of blog posts that you don't want to miss, so visit us every day for more inspiration from our Design Team including a special May Day inspired project tutorial by
Audrey
on Watch Us Wednesday right here at The Kraft Journal,
Kraft Outlet's
official blog.