Hi everyone! It's Audrey with our next Watch Us Wednesday tutorial here at The Kraft Journal. Today I'm going to share how to create a fun and patriotic hybrid card for our Stand and Salute challenge, using cardstock and trims from The Kraft Outlet, patterned paper, and a vintage-inspired Americana digital image.
Although a traditional paper-crafter at heart, I do love working with digital images. They are readily available, very inexpensive, and come in every theme, design, or style under the sun. What's more, you can alter the size or color, add text, eliminate details you don't want, or create a mirror image, just to name a few options. And best of all, it's easy. Anybody can do it. I'll show you how.
There are several ways to add digital images to your collection. Many scrapbooking companies offer images that you can download, or there are websites online that gladly share hundreds of free digital images, like the American flag I used here. Find an image you like, right click on it and save it to your computer. Next open your digital image in a photo-editing program, like Photoshop. The tool bar at the top allows you to make any changes you want. For my project, I simply needed to re-size the image to fit my card base.
1. Click on "Image" (3rd to the left and highlighted on my tool bar)
scroll your mouse down to "Resize" and then across to "Image Size". Click on "Image Size".
2. A box will open up. Type in the width or height of your desired size.
3. Click on "OK"
Your image is now re-sized and ready to print.
1. Click on "File" and scroll down to "Print"
I printed the flag one time onto
Buff Ivory Coverweight Cardstock
and a second time onto a sheet of patterned paper. We're going to combine the two images to create one filled with depth and detail. After all, who says working with digital images has to be flat, one-dimensional, and boring?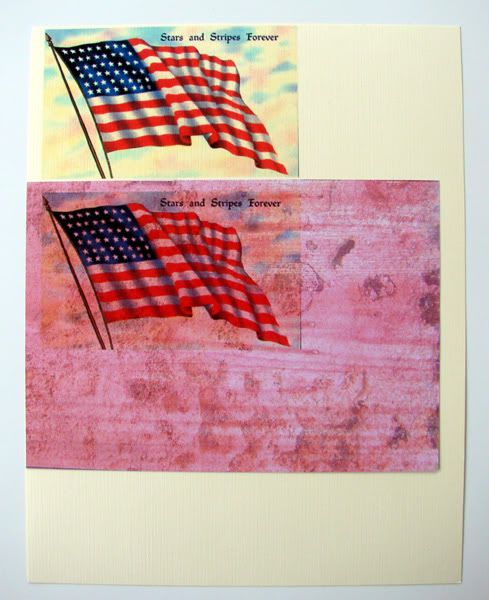 Trim the Buff Ivory Coverweight Cardstock around the perimeter of the image. That image will create the background of the card. Then cut out the red stripes of the flag from the patterned paper image and adhere them directly overlapping the background red stripes using foam dimensional dots.
Repeat this process for the blue and white star field, adding small dots of glitter to the centers of the stars.
Create a card base from
Lunch Bag Kraft Cardstock
, layer with patterned paper, and add your flag image to the center. Wrap red
Gypsy Market Seam Binding
around the bottom of the card and finish with a blue spritzed
Victoria Seam Binding
bow and a button tied with
Hang Tag String.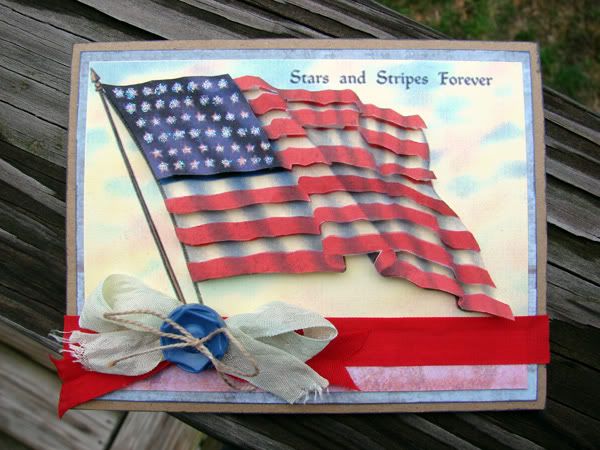 Now that you know how easy it is to work with digital images, you can re-create this same look for any number of projects.
Enjoy!