Hi everyone!
Audrey
here with our next Watch Us Wednesday tutorial for The Kraft Journal. For this week's Father's Day challenge theme, I'm going to share with you a fun technique using rub-ons to create your own unique, one-of-a-kind patterned paper.
I absolutely adore rub-ons. They come in every shape, style, color, and design imaginable and offer images and sentiments for every theme under the sun. If you guys are anything like me, then you probably have a whole ton of rub-ons in your scrappy stash. And like me, perhaps you're always looking for new and creative ways to use them. I love these
Steampunk Victoriana Rubbings
from The Kraft Outlet, and thought the vintage images would work perfectly for a masculine card design.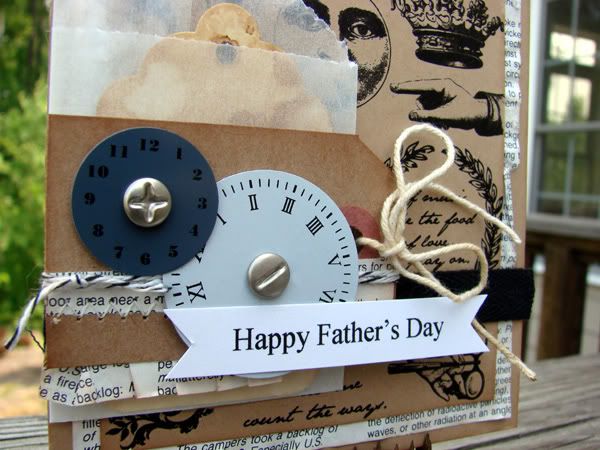 Creating your own patterned paper with rub-ons is so easy to do. Here, I simply started with a
Brown Kraft Coverweight Cardstock
card base, followed by a slightly distressed layer of
Vintage Dictionary Pages
. To make my next layer of custom patterned paper, I simply cut a smaller piece of Brown Kraft Coverweight Cardstock and covered it with about half the sheet of Steampunk Victoriana Rubbings. This mish mash of images is totally random and fun, and eye catching, too. And this is a great way to use up any leftover rub-ons that you may have laying around.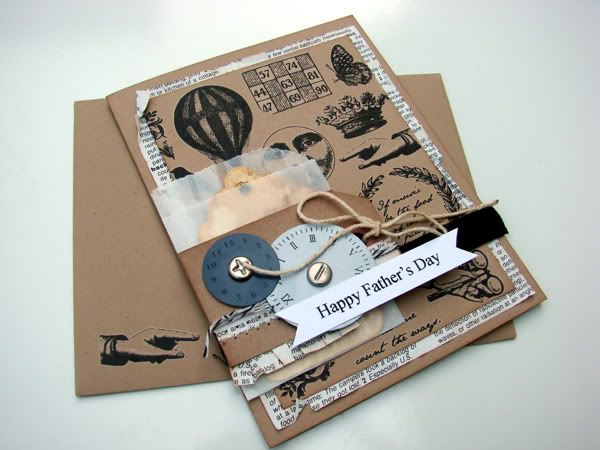 A strip of
Black Twill Tying Tape
spans the bottom of the card, and to the lower left-hand side I added a
Small Glassine Bag
with a tucked
Scalloped Grungy Prim Tag
, and a
Small Kraft Shipping Tag
detailed with more Vintage Dictionary Pages and
Black Baker's Twine
.
Clock Face Icons
and a computer-printed sentiment add the final details.
Hope you all play along with us on this week's Father's Day challenge. You have until 6 pm on Sunday, June 19th to upload your project to the Kraft Journal gallery. Can't wait to see what you all create!