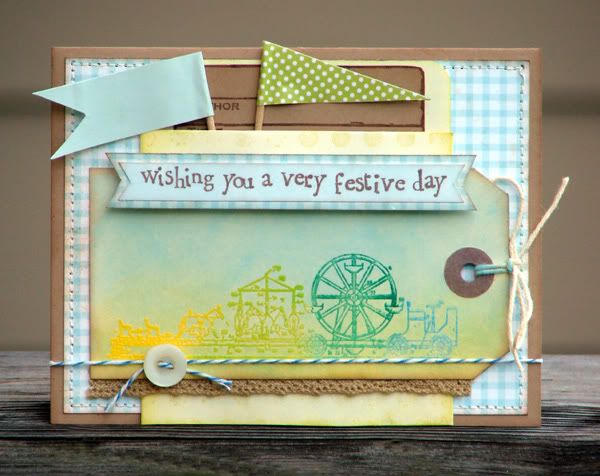 Hi everyone! It's
Audrey
, here to share a fun stamping technique for our Watch Us Wednesday tutorial. Today I'm going to show you how to do emboss resist to create a festive card for this week's Carnivals, Parades or Parties challenge at The Kraft Journal. Let's get started.
I just love this week's challenge theme. Such a perfect excuse for me to break out one of my all-time favorite stamps. I wanted to add a lot of color to my image to really make it pop, and emboss resist is a very quick and easy way to do just that.
Start by applying various colors of ink directly to your stamp image. For embossing, you will want to use a pigment ink, for it's slower drying time. Choose a smaller cat's eye pad, or these Petal Point inks by Clearsnap that have removable ink pads. These are way easier to apply color to the stamp image with than full size pads.
Once you've inked the entire image, stamp your design onto a
Large Manila Shipping Tag
. Immediately cover the image with clear embossing powder, then heat set the powder with an embossing tool.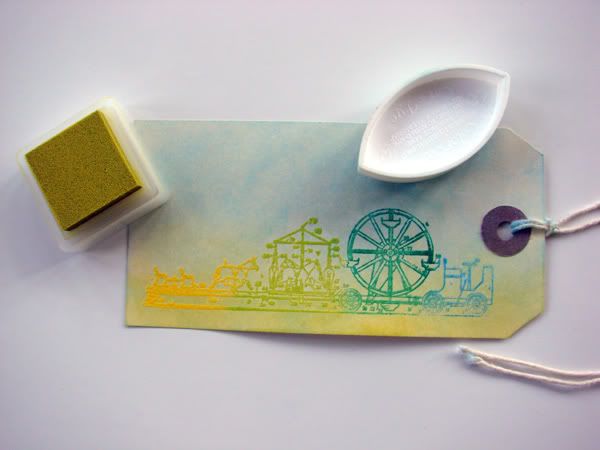 Give the image a few seconds to cool. Then add color to the tag by rubbing ink pads over the entire surface of the tag. Here, I used both a lime green and a light blue ink pad to create a background scene for my carnival. Don't worry about rubbing ink over the stamp image. Just cover the entire tag, continuing to apply ink until you get your desired depth of color.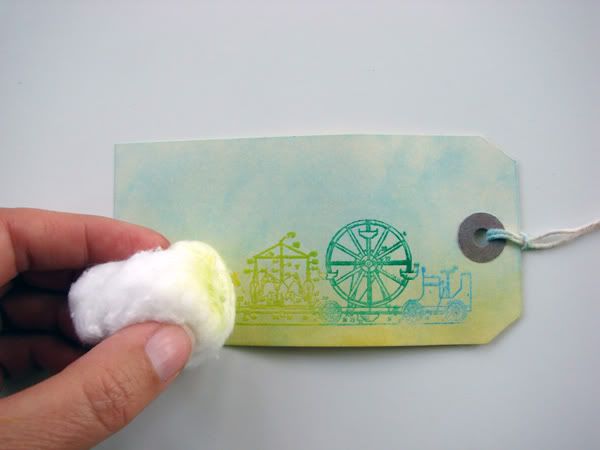 Last step is to wipe over the stamped image with a cotton ball, tissue, or cloth to remove the ink that's been applied over the top. The embossing will "resist" the ink and wipe clean, leaving a crisp and colorful design.
Now your tag is ready to use on any number of projects. I added mine to a card base made from
Brown Kraft Coverweight Cardstock
and pretty gingham patterned paper, along with a hand-stamped
Library Pocket
and library card. A sentiment banner was stamped with tiny alpha stamps and added to the top of the tag, while lace and
Blue Baker's Twine
dress up the bottom. A few final toothpick flags finish off the card.
Hope you'll give emboss resist a try and play along with us at The Kraft Journal. You still have until this Sunday, August 14th at 6 pm EST to upload your kraft inspired Carnivals, Parades or Parties project to the gallery.
All participants in our challenges for the month of August have a chance to be featured on our "Feature Me Fridays" posts as well as be entered to win a $15.00
Kraft Outlet
Store Voucher! The more challenges you enter this month, the more chances you have to win!