Hi everyone! It's
Audrey
, here with a holiday home decor project for our Watch Us Wednesday Tutorial. This week's theme at the Kraft Journal is Banners or Border Punches. I'm going to show you a fun way to incorporate both to create a pretty wall hanging sure to brighten your home this holiday season.
Banners come in all shapes and sizes, and work well with any theme you so choose. Today, I'm going to show you how to create a banner swag using a mixture of
Small Grungy Prim Tags
and
Chipboard Flag Pieces
for a detailed and unique look.
To get started, we're going to dress up a few tags and flags. I love the look of white ink and kraft paper, so start by covering some Chipboard Flags with
Lunch Bag Kraft Cardstock
and edge each piece with white ink. You will need one flag between each of the tags, so decide on your word or phrase, and count accordingly. For my JOY sentiment, I needed 4 chipboard flags. Next, ink your Small Grungy Prim Tags with the white ink, and embellish with strips of
Merry Christmas Paper Tape
. As you can see, it's easy to use a border punch to add detail to the paper tape. Simply punch before you peel off the liner, then adhere in place. I added a bit of pom-pom trim and
Red Baker's Twine
along with machine stitching for a bit of extra detail.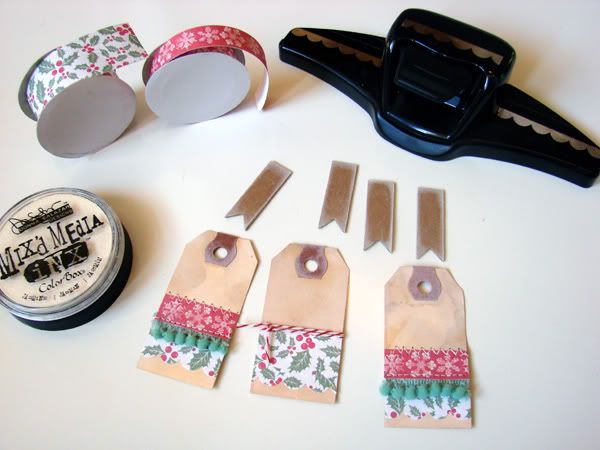 Create a background for your wall hanging. My piece is 5" x 7", starting with Lunch Bag Kraft Cardstock, then layering with
Buff Ivory Coverweight Cardstock
and patterned paper. If your word is a bit longer, you may want to start with a larger background. Machine stitch around the edge of the patterned paper.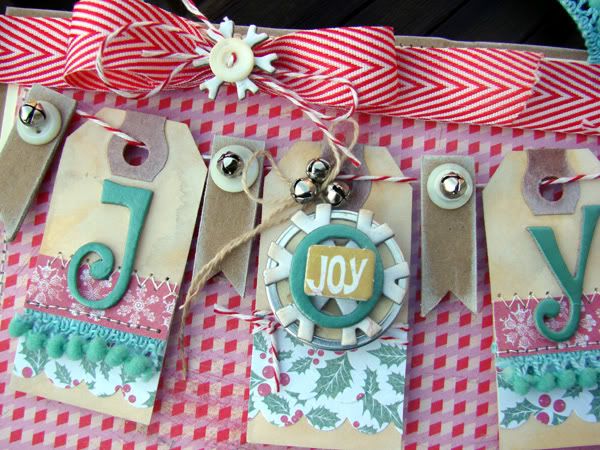 The trick to swagging a banner is to start by adhering your tags first. I used foam dots for a bit of dimension. Once all 3 tags are in place, thread Red Baker's Twine through the tag openings. Secure the twine at the sides of the hanging with a bit of liquid glue. Then add the Chipboard Flag Pieces on foam dots over the twine in between each tag.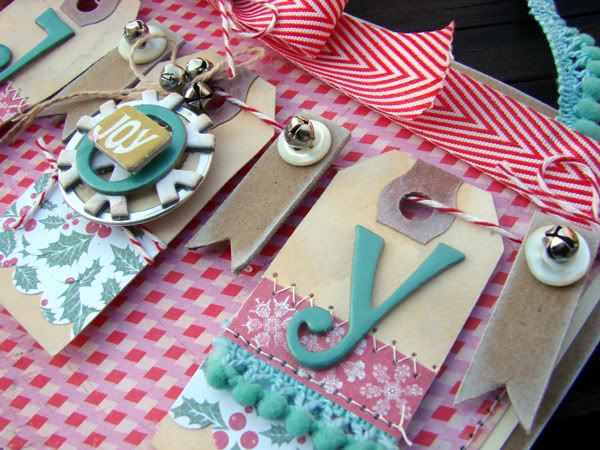 Now have fun embellishing your tags and flags with chipboard letters, chipboard embellishments, buttons, and mini bells. Add some extra detailing to the center tag to really grab your eye. For my piece, I layered my O on a chipboard snowflake and a
Round Metal Edge Grungy Prim Tag
. Some ribbon and a bow across the top and a ribbon hanger, and your piece is ready to go.
Hope you'll play along with our Banners or Border Punches challenge here this week at the Kraft Journal. You have until 6 pm on Sunday, November 6th to upload your projects to the gallery.
All of our followers who participant in our challenges for the month of November have a chance to be featured on our "Feature Me Fridays" posts as well as be entered to win a $15.00
Kraft Outlet
Store Voucher! The more challenges you enter this month, the more chances you have to win!
Can't wait to see what you make!