Hi everyone! It's
Kim
here to share with you a quick and easy tutorial for creating a fall-themed gift card holder for our Watch Us Wednesday feature at The Kraft Journal!
Gift cards are the perfect way to "give thanks" and show your appreciation to someone. Using products from
The Kraft Outlet
makes it so easy!
Place your gift card inside the Glassine Bag and fold down just over the top of the gift card. Place a strip of Gaffer Tape starting at the seam of the fold, down to the bottom of the Glassine Bag. Trim your paper doily in half, then apply a thin coat of Glimmer Mist to turn the white paper doily into a pretty orange color. Blot with a towel to dry, then affix to the folded seam of the bag. Trim off the excess.
Oh! And by the way! I just love the size of these Glassine Bags - they are the perfect size for gift cards!
Wrap a layer of baker's twine around the Glassine Bag to hold it all in place. Use a scalloped border punch to cut out a piece of Lunch Bag Kraft Cardstock. Gather your favorite leaf and a pretty button.
Ink the edges of the scalloped circle. I used a hint of orange, mixed with brown distress ink. I love the fiery glow it has! Affix the scalloped circle to the top of the Glassine Bag, followed by the leaf, then button.
Next, stamp your sentiment onto the Lunch Bag Kraft Cardstock and trim around the edges of the letters. Adhere the sentiment to the leaf using dimensional foam tape for a little pop.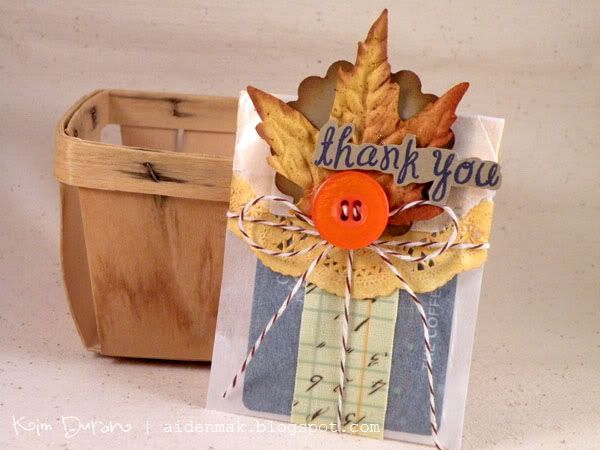 And that's it! A super quick way to "give thanks" and show your appreciation with a little gift!
Hope you'll play along with our Give Thanks challenge here this week at the Kraft Journal. You have until 6 pm on Sunday, November 13th to upload your projects to the gallery. All of our followers who participant in our challenges for the month of November have a chance to be featured on our "Feature Me Fridays" posts as well as be entered to win a $15.00
Kraft Outlet
Store Voucher! The more challenges you enter this month, the more chances you have to win! Can't wait to see what you make!