Hello!!! It is
Debbie Carriere
here for my first Watch Us Wednesday Tutorial!! I am happy to share with you a fun project I made - an accordion file made from envelopes. I have lots of photos to walk you through, so grab a cup of tea :)
Gather your supplies.
4 A2 sized envelopes - I used
Light Kraft envies
from
The Kraft Outlet.
Paper trimmer
Scoring board and bone folder
Strong adhesive (red line tape, scor-tape or something similar)
Foam tape
Ribbon
Cardstock, patterned paper, & stamps as desired for decorating covers and inserts
The first step is to seal all the envelopes and then cut 1/8" from each short side, so that the final length is 5-1/2" and the two short ends are open to create a sleeve.
Each envelope is then scored as follows. You will be scoring in 1/16" intervals, so depending on what scoring board or method you use your procedure might vary a bit from mine. I use the Martha Stewart scoring board and the measurements I have listed are the grooves I used to score & may differ from the "true" measurement. In case you are not using a scoring board, I have put the true measurements in parentheses below each picture.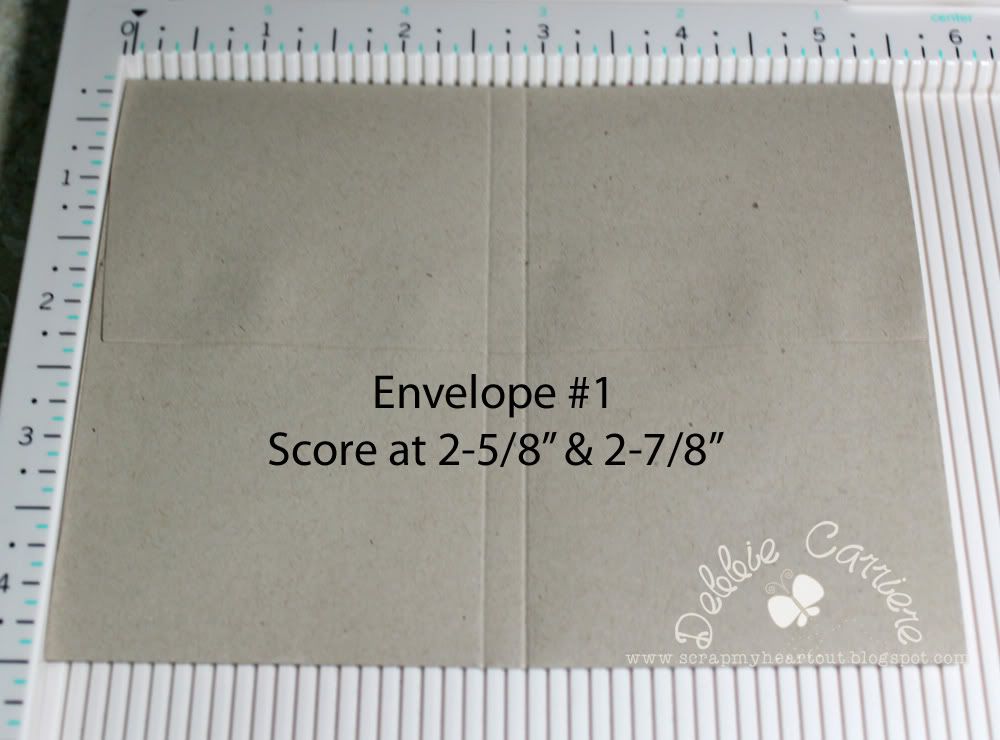 (2-5/8" & 2-7/8")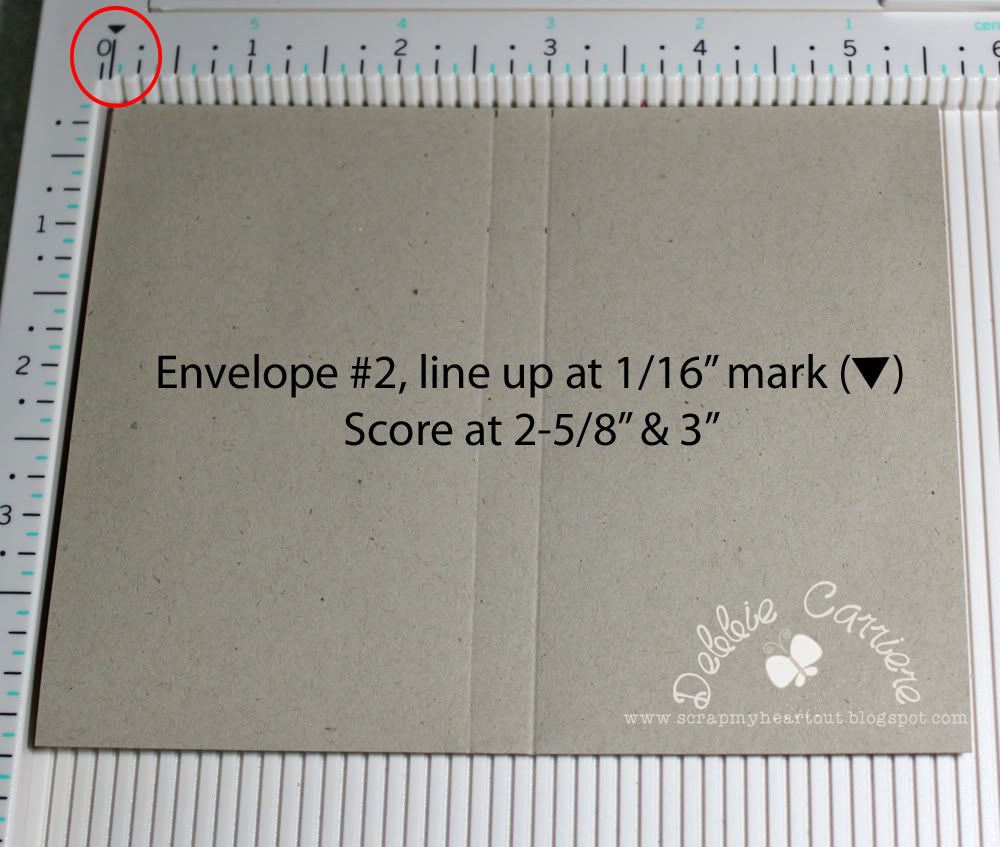 (2-9/16" & 2-15/16")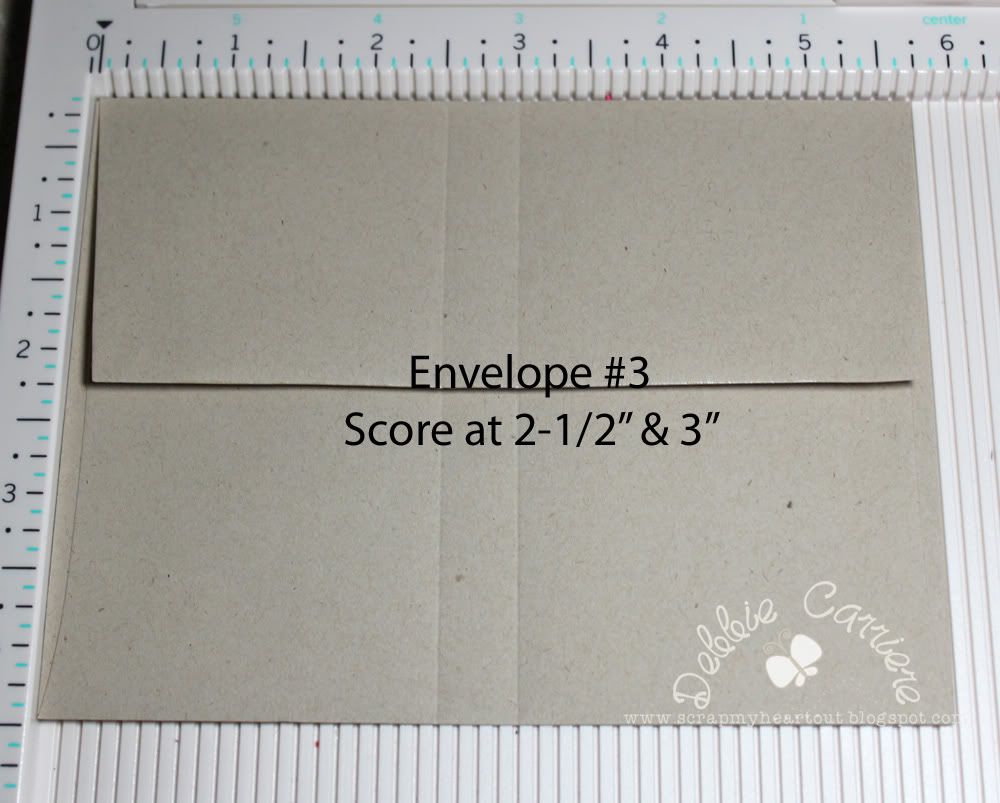 (2-1/2" & 3")
(2-7/16" & 3-1/16")
You should end up with four envelopes with graduated score marks. Because the width of the section between the score lines varies, you need to trim your envelopes so that the width on either side of each score line is equivalent for all the envelopes. I found this measurement to be 2-7/16".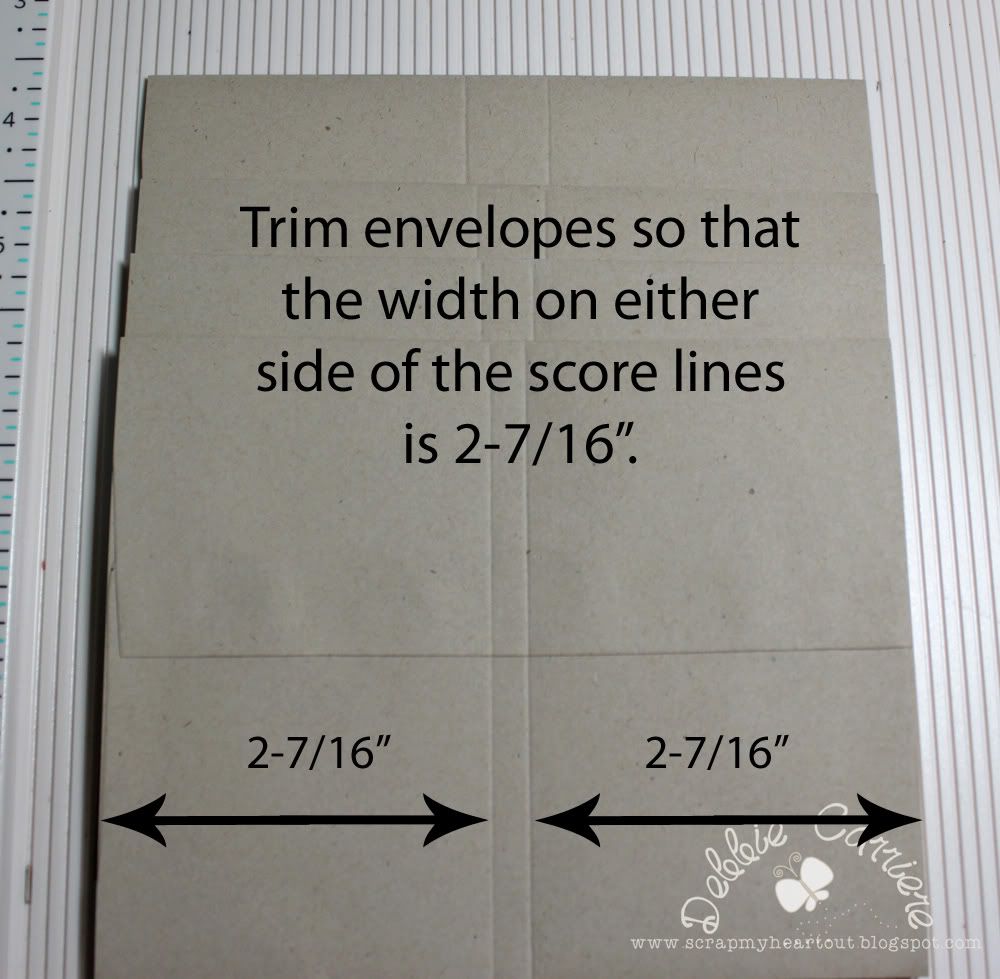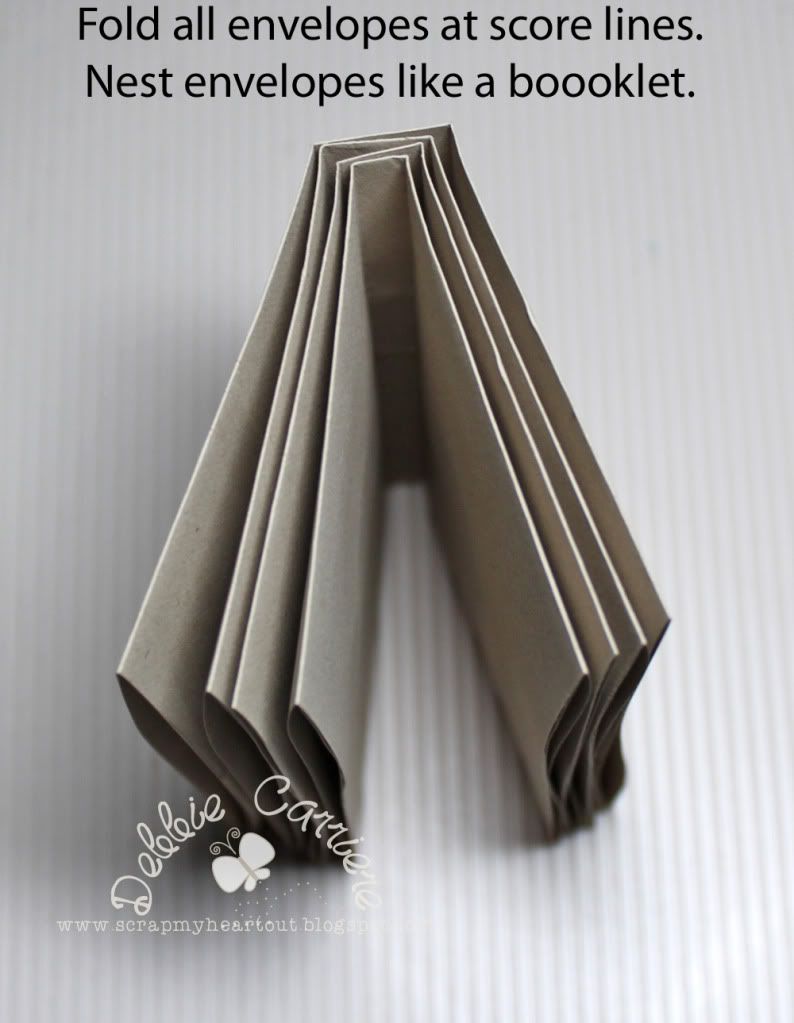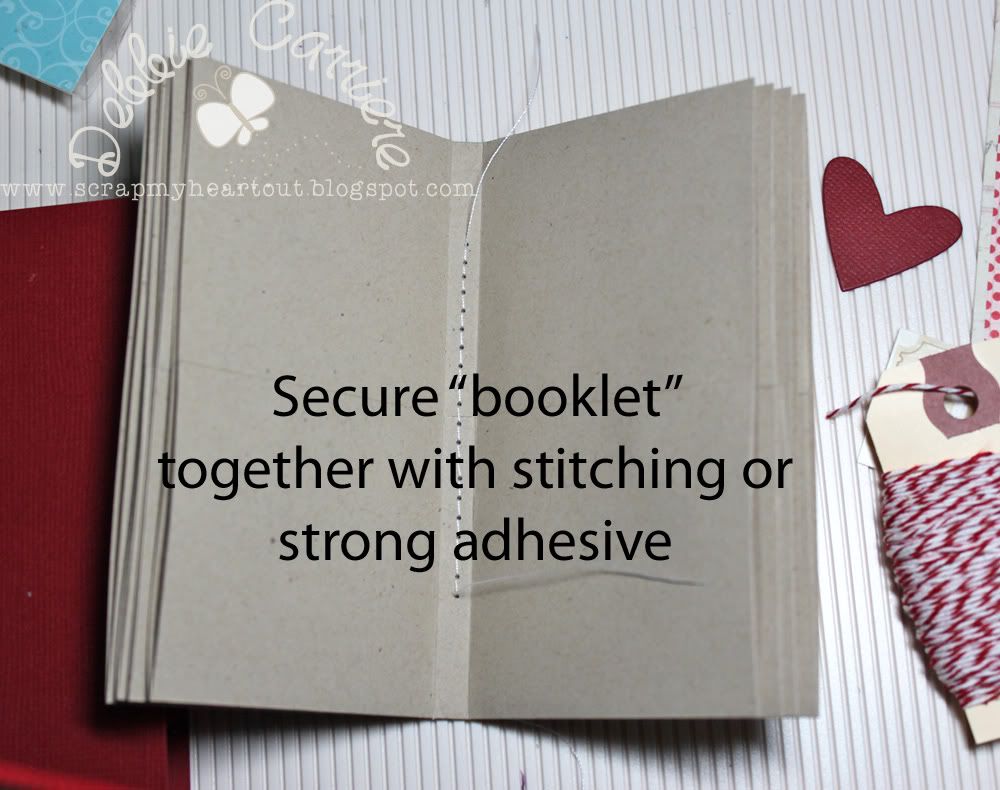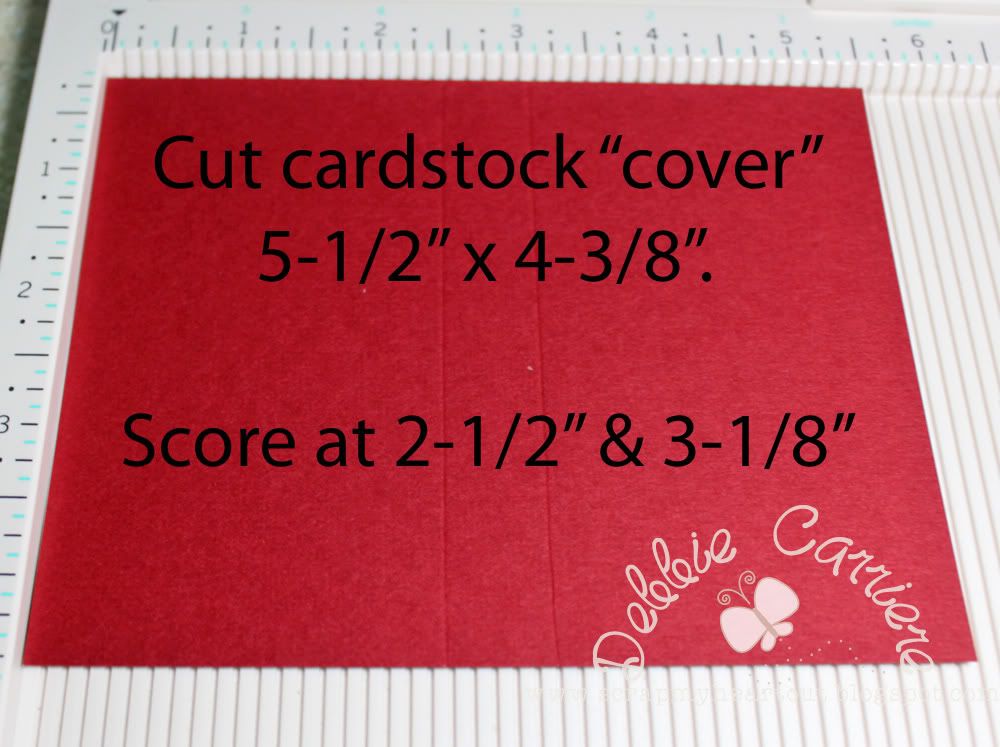 At this point you will secure your envelope booklet to the cover, centering and lining up the edges.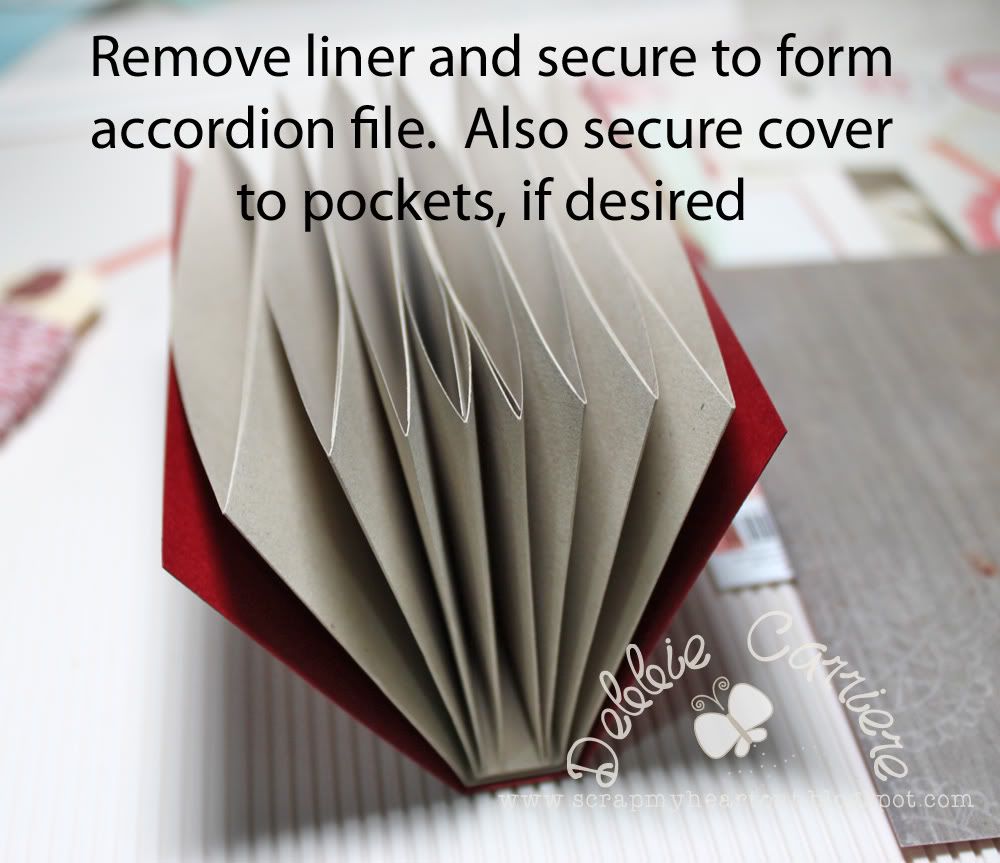 You could easily omit the above steps of adhering the pockets to one another and the cover to make a book with pockets. Pictures adhered to the "pages" with journaling tags inserted in the pockets would be wonderful!
I also applied a small piece of redline tape under my ribbon to secure it. I used the
White Twill Tape
available from The Kraft Outlet. I LOVE twill ribbon :)
Now you can have fun embellishing your front and back covers. Here is my finished product all tied up, in the spirit of this week's challenge!!
I used a
Small Kraft shipping tag
as my focal element, stamped a sentiment and embellished with some heart die cuts and
Red Baker's Twine
. I am using this as a Valentine's gift for my 6 year old son. I made up a bunch of fun tickets to tuck inside, but you could tuck money in, some small chocolate bars, or even pictures. Here is a look at the tickets I created on my computer and printed on
Buff Ivory Cardstock
. I stamped various images and small sentiments after they were printed. I then cut out them out at 2" x 3-1/2" and used a ticket corner punch as a finishing touch.
Well, I hope you enjoyed my tutorial. Any questions, please ask! You have until Sunday evening to play along in this week's "Tie It Up" challenge, just click on the link in the sidebar for all the details. Thanks for visiting The Kraft Journal for Watch Us Wednesday!