Hi Guys!
Dorcas here
with a little tutorial for you. As I love to color on kraft and each month I get a chance to show a tip or two I thought I would show you all how I color various things like whites, hair shades, skin tones etc. Today I'm going to show how I color white which is really quite simple and yet daunting to a lot of people.
There's lots of shades of white, for example you would color a polar bear with different pencils than you would a sailor suit but today we're doing a sailor suit on this little cropped cutie by Mo Manning!
I'm using Lyra pencils and a kraft cardstock very similar to "
Lunch Bag Kraft
" which is what I would recommend you have a go with . I have noticed that true kraft is becoming increasingly difficult to find in the craft stores so the
Kraft Outlet
is a real treasure!
1) So just start out by coloring all over with White (ignore his face and hair I got carried away. lol)
2)Add your Dark Gray in the deepest shadows. It will look a little strange, that's ok. We like strange. :)
3)Now grab the Medium Gray and blend the dark gray into the white as best you can. It will still look a little "childish" at this point.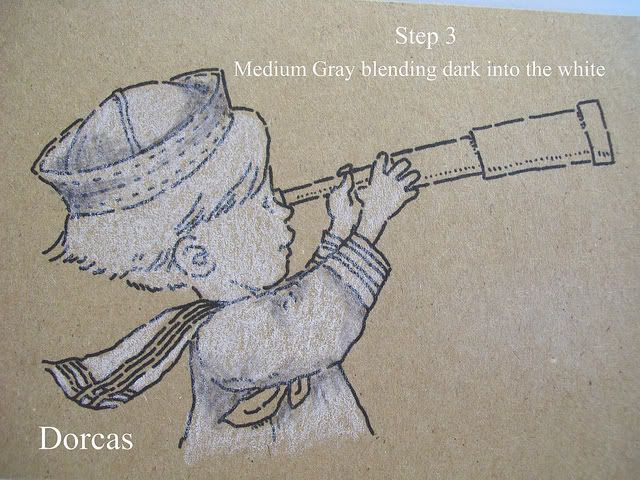 4)Now grab the silver gray and blend still further. You'll start seeing the shades come together now.
5) Light gray is next and just keep blending!
Its looking good but now it needs some "punch" so...
6) brighten the lightest areas with pure White, deepen any shadows that look a little "washed out" , sharpen your lines with a black pencil and add a touch of Aquamarine in your darker grays to make the white look a bit "cleaner". It's kind of like adding "blueing" in a hair rinse, but you don't want to overdo it or you'll have blue hair sailor clothes instead of white. :)
So there we have it! I hope you've had fun and next time we'll tackle the little boy's hair which will be a nice blonde.
Happy Crafting!