As we announced last week, for the entire month of April we will be re-running some of our favorite tutorials created last year by some of our (past and present) Design Team. This week we are excited to share a tutorial created by past Kraft Outlet Designer
Audrey Pettit.
Audrey Pettit
Brown Kraft Coverweight Cardstock
and patterned paper forms a background for this maypole scene printed on
Buff Ivory Cardstock
and dressed with photo corners, machine stitching, buttons, and a bow. But by far the true star of the show is the fun pinwheel at the top of the pole. Want to learn how to make one? I'll show you how.
If you'd like to create a pinwheel of your own, it's really an easy process, and you can make a pinwheel in any size you wish, from teeny tiny to ultra large. Simply start with a perfect square of pattern paper or cardstock. I used a 2″ square for mine.
Using a pencil and ruler, draw an X through the center of your square piece. Put a pencil dot in the exact center and in each corner as shown here.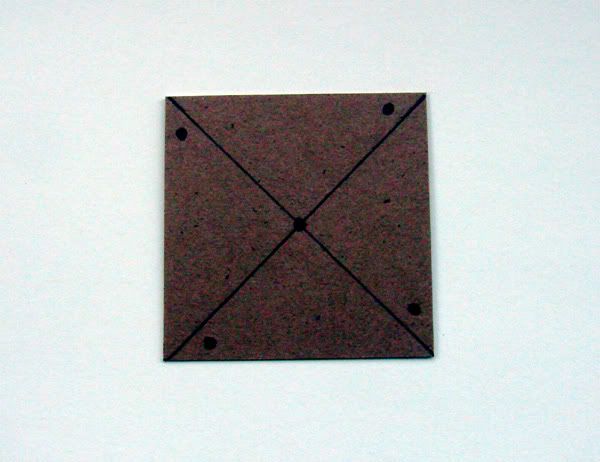 Punch a hole in each dot using a 1/8″ circle punch and then using your scissors, cut approximately half way up each drawn line towards the center. Erase your pencil marks.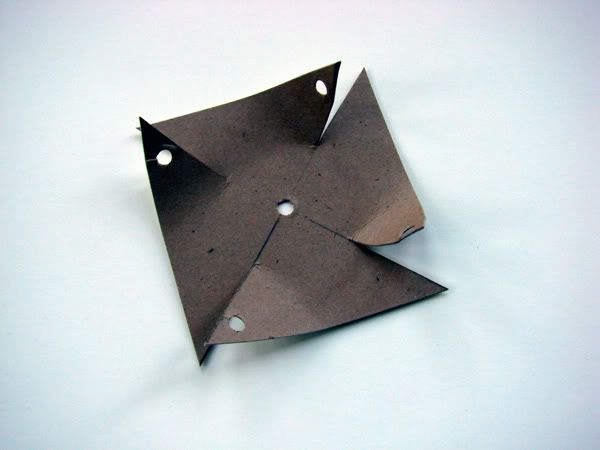 Place a brad in the center hole, prongs facing up, and then bend each punched corner onto the prongs in the center. Secure the brad once all the corners have been folded up.
For my pinwheel, I wanted a double-sided pattern, so I adhered a square of patterned paper to the cardstock before I folded up my arms. Using a double-sided paper would work great for this, but since my papers were single-sided, I needed two squares to get the look I was aiming for.
Once my pinwheel was finished, I added a bow of
Earthy Hemp Cord
and a button to cover up the arms of the brad and layered it over a strip of
Victoria Seam Binding
spritzed with Sky Blue Glimmer Mist to match my papers.
We hope Audrey's tutorial inspires you to give pinwheels a try on your next crafty project and don't forget you still have plenty of time to get in on this week's "April Showers bring May Flowers" challenge, you'll find all the info at our Current Challenge link located in the upper right of our sidebar.