Last Wednesday we began our contest to name our most darling owl.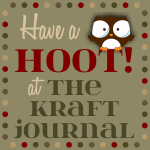 The winning name was
OWLIVER
!
Congratulations to Kathy Jo for the cutest name !! Here is what Kathy Jo won ...
A wonderful Playpack from our sponsor, Kraft Outlet, worth more than $60 !!
Our little Owliver has his own email address too - OwliverKraft@yahoo.com.
We plan to use this address down the road when we begin our Q & A posts, but feel free to contact us any time if you have a question.
We had a LOT of cute names to choose from - thanks to all of you who contributed a name !